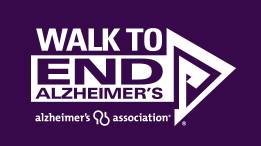 Assured Assistance is forming a team to help raise funds for the Alzheimer's Association. The Alzheimer's walk will take place at Penn State University Berks Campus on Saturday, October 8, 2016. We welcome anyone who wants make a donation to our team. Please click here for information on how to make a donation. We are also looking for team members! Anyone interested, please let us know.
All funds raised through Walk to End Alzheimer's further the care, support and research efforts of the Alzheimer's Association. The Alzheimer's Association is a nonprofit 501(c)3 organization. All donations are tax-deductible as allowed by law.
The number of Americans living with Alzheimer's disease is growing — and growing fast. An estimated 5.4 million Americans of all ages have Alzheimer's disease in 2016.
Of the 5.4 million Americans with Alzheimer's, an estimated 5.2 million people are age 65 and older, and approximately 200,000 individuals are under age 65 (younger-onset Alzheimer's).
One in nine people age 65 and older has Alzheimer's disease.
By mid-century, someone in the United States will develop the disease every 33 seconds.
These numbers will escalate rapidly in coming years, as the baby boom generation has begun to reach age 65 and beyond, the age range of greatest risk of Alzheimer's. By 2050, the number of people age 65 and older with Alzheimer's disease may nearly triple, from 5.2 million to a projected 13.8 million, barring the development of medical breakthroughs to prevent or cure the disease. Previous estimates based on high range projections of population growth provided by the U.S. Census suggest that this number may be as high as 16 million. (provided by the Alzheimer's website)
Assured Assistance is a non-medical caregiver company based in Shillington, PA. serving Reading, Wyomissing, Sinking Spring and surrounding areas. Assured Assistance provides in home senior care, for seniors who want to remain in their homes but need some assistance to complete everyday tasks. Assured Assistance also provides respite care, home care, and compassionate skilled senior care. In home assistance we can provide includes but is not limited to…Companionship, Errand Services, Housekeeping, Laundry Services, Transportation, Organization Needs, Meal Preparation, Shopping/Groceries, Family Respite Care, Grooming/Hygiene Assistance AND More. We provide service when you want and how you want, anything from 3 hours to 24/7. If you are a caregiver who needs respite, a family member looking to assist your parents in their journey to remain independent or simply looking for help for yourself, call Assured Assistance at 610-796-4737